The 8th Meeting of the High-level Experts and Leaders Panel on Water and Disasters (HELP) was held on 1st November, 2016 at the Ministry of Public Works and Housing, Jakarta, Indonesia hosted by Ministry of Public Works and Housing. The meeting was chaired by Dr. Han, Seung-soo, Chair of HELP, and approximately 70 participants from HELP member organizations representing national governments, international organizations, civil societies and private sectors joined the meeting. Main topic of the 8th meeting was how to contribute to the actions of High Level Panel on Water (HLPW) established by the United Nations and the World Bank on April, 2016 as well as SDGs goals and targets. Intensive discussions among experts were held. What were agreed in the 8th meeting were the HELP's new action strategy, the new HELP's Flagship Initiative on helping the implementation of local projects, and advancing technology and scientific knowledge on water and disasters. It was also agreed that sub
Raising awareness at the highest level and regularizing in-depth discussion on water and disasters at global level
Analyzing and proposing innovative ways of investment/financing for water-related disasters.
Mainstreaming water and disasters in discussion and practice on climate change adaptation.
Advancing technology and scientific knowledge, and promoting their use in countries and local communities.
Promoting data collection, archiving and analysis and producing indicators.
Promoting implementation of local projects.
Sharing good practices and strengthening public relations through HELP Flagship Documents.
Representing NARBO, the chairperson joined the meeting and contributed to the discussions by sharing Asian aspects on flood management. This time, Dr. Khin Ni Ni Thein, Secretary of the Water Advisory Group and Member of the National Water Resources Committee, ARBRO, Republic of the Union of Myanmar was newly appointed advisor of HELP. In this way, NARBO and NARBO member organizations have been contributing to the HELP by sharing Asian aspects with them.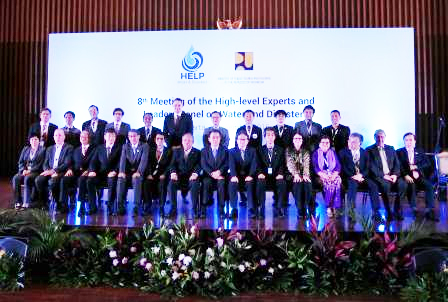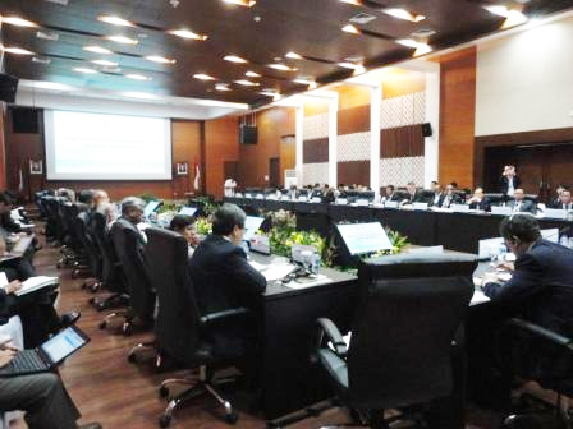 Photo of the 8th HELP Meeting