ADB and JWA agreed to strengthen alliance
for water security in river basin

Mr. Haruhiko Kuroda, the President of Asian Development Bank (ADB) and Mr. Toshiki Aoyama, the President of Japan Water Agency (JWA) singed Letter of Intent (LOI) on 12 January 2009, at the ADB Headquarters in Manila, Philippines. Dr. Mochammad Amron, Chairperson of NARBO, First Advisor to Minister of Public Works, Indonesia, and Mr. K. W. Ivan de Silva, Vice Chairperson of NARBO, Director General Mahaweli Authority of Sri Lanka, witnessed the signing of the LOI, titled 'The Letter of Intent for Collaboration to Improve Water Security in River Basins through the Network of Asian River Basin Organizations (NARBO)'. This will confirm the cooperative relationship between ADB and JWA to expand the scope of NARBO activities.
Introduce and develop Integrated Water Resources Management (IWRM)

*2)

in river basins in each country

Work and collaborate with Center for River Basin Organizations and Management (CRBOM) in Indonesia

JWA supports ADB investment business

Strengthen the interaction with leaders and decision makers though NARBO activities
Specific and practical ADB-JWA cooperative plan will be on a case-by-case basis decided and agreed through memorandum of agreement (MOA).
NARBO showed steady growth for 5 years since its establishment in February, 2004, along with the steady increase in the number of member organizations to 67, while ADB and JWA well cooperated as NARBO secretariat. The LOI signed this time will explore expanding and strengthening the NARBO's presence and capability.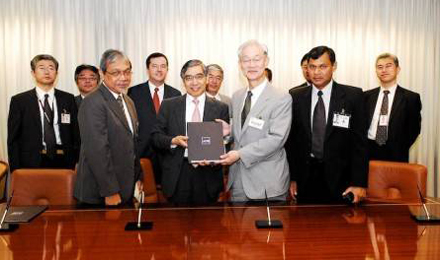 Front row, left to right: Dr. Amron, President Kuroda, President Aoyama, Mr. K. W. Ivan de Silva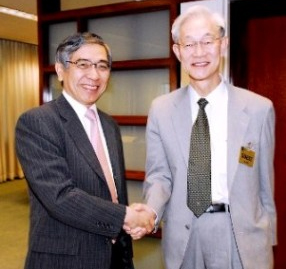 Mr. Kuroda and Mr. Aoyama