News
The International Workshop Water & History was held in Tokyo, 13-14 December 2011


by Tomotaka HIGUCHI – Japan Water Agency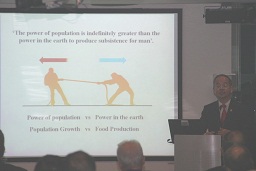 "The International Workshop on Water and History" was held at the World Bank's Tokyo Development Learning Center from 13 to 14 December 2011.
As one of the key water organizations in the world, Chairperson of NARBO, Dr. Keizrul Bin Abdullah illustrated the relationship between water and human in the context of history.  All participants confirmed the importance of learning history and sharing experiences to attain sustainable clean water for future generations. (>>See more)
---
Online Course on River Basin Management for NARBO


by Dennis Von C.Custodio IWRM Specialist and RETA 6470 Coordinator (Consultant)


Four river basin professionals from NARBO member organizations in Malaysia, Indonesia, Philippines, and Thailand completed the free online course on river basin management which was held from 10 October to 18 December 2011. (>>See more)
---
NARBO Members made a contribution to the 6th World Water Forum


by Tadashige KAWASAKI –Japan Water Agency-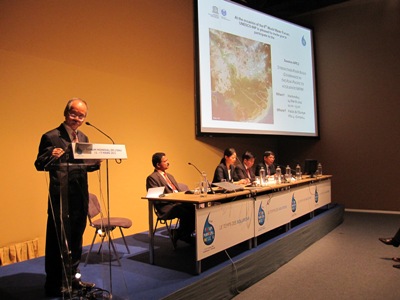 NARBO members actively participated in the 6th World Water Forum in Marseille, France from March 12 to 17, 2012. Dr. Keizrul Bin Abdullah, the chairperson of NARBO contributed to the promotion of a lot of events at the Forum, such as serving as chair for the session, "Strengthen River Basin Organizations in the Asia-Pacific to Accelerate IWRM", giving a speech for " Launching of the Asia-Pacific Water Museum" and so on
Other members also contributed to the events at the Forum. Mr. Sudharma Elakanda from Mahaweli Authority of Sri Lanka also participated in it as a speaker for  "Strengthen River Basin Organizations in the Asia-Pacific to Accelerate IWRM". At the exhibition area, NARBO exhibited "Report of NARBO and Member's activities".
---
Fourth Meeting of the Asia-Pacific Water Forum's Steering Group on Water and Climate Change was held in ADB HQ Manila, 4-5 June 2012
by Tomonobu SUGIURA – ADB

The Asia-Pacific Water Forum's Steering Group on Water and Climate Change held its Fourth Meeting, at ADB Headquarters in Manila on 4–5 June 2012. The meeting recognized the growing visibility of climate change as a water resources concern in the region, and the need for the Steering Group to maintain an active role in providing decision-makers with timely and useful guidance. NARBO member (Center for River Basin Organizations and Management, Laguna Lake Development Authority) presented recent regional and climate change activities for the preparation of the "meta-guidelines for practitioners" in this meeting.  
---
Visions for River Basins
by Dennis Von C.Custodio IWRM Specialist and RETA 6470 Coordinator (Consultant) ADB


From 2009 to 2011, ADB in collaboration with NARBO, the Center for River Basin Organizations and Management, and local counterpart agencies conducted a series of stakeholder consultation workshops for the challenging yet rewarding preparation of IWRM investment roadmaps for strategic river basins across the region. The overall aim was to further encourage basin water investments.  (>>See more)
Information
The 7th IWRM Training will be announced soon!

by NARBO Secretariat
The 7th NARBO IWRM Training will be held on Nov 2012 in Sri-Lanka. NARBO Secretariat is now actively preparing for the Training. The details of the training will be announced soon.
From the secretariat
According to NARBO Charter, RBO member are obliged to make an annual report and send it to Secretary General once a year within 3 months after their yearly fiscal year. NARBO secretariat will send the format of annual report soon. Please fill in the format and send it back to NARBO secretariat
---
Contact person of NARBO
For keeping touch with NARBO members, when the contact person of NARBO has been changed, please let us know the contact details of contact person in your organization. In 2012, we'll have many large scale NARBO events, such as NARBO Regional Meeting in Bangkok as Technical Session of the 2nd Asia-Pacific Water Summit and the 5th NARBO General Meeting. Thank you very much for your cooperation.
---
Newcomer (Introducing Mr. Tomonobu Sugiura)
NARBO secretariat is glad to introduce a new secretariat staff member, Tomonobu SUGIURA. He is a staff member of ADB and he would like to keep close relationship with NARBO members more than ever.(>>See more)
---
Your articles are welcome -- send them now!
NARBO Newsletter aims to be a tool for sharing good practices, lessons learned from practice and IWRM-related activities, etc. Therefore, we highly welcome articles from you, about good practices, lessons from practice, activities relevant to IWRM. In addition, the article such as topic providing, and fresh voice, etc is also very welcomed. The articles you will contribute to NARBO Secretariat will be put in newsletters to share experience and lessons and so on