Regional Workshop on Developing Partnerships for
Water and Climate Change Adaptation
(Workshop Proceedings)
1-5 December 2008 Bangi, Selangor, Malaysia


S1. Background and Workshop Objectives
The Asia Pacific Water Forum (APWF) is an independent, nonprofit, nonpartisan, and nonpolitical network formed in 2006 with a mission to promote sustainable water management by championing best practices, boosting investments, building capacity, and enhancing cooperation throughout the Asia-Pacific region.
As part of its approach to achieve its mission a number of key institutional partners of the APWF has agreed to take the lead to identify strategies and initiate actions to achieve progress under 3 Priority Themes and 5 Key Result Areas (KRAs). Developing knowledge and lessons is one of the KRAs and is central to the APWF approach. Thus, the APWF "KnowledgeHubs" (www.apwf-knowledgehubs.net) has been initiated as one of the strategies to achieve the objectives of this KRA. The "KnowledgeHubs" is a network of regional water knowledge hubs that was officially launched in June 2008 in Singapore. It was established through a cooperation agreement between Singapore's Public Utilities Board (www.pub.gov.sg), UNESCO-IHE Institute for Water Education (www.unesco-ihe.org), and ADB (www.adb.org).
Each regional knowledge hub shall be a center of excellence in a particular water domain and shall be committed to improving water security in the Asia-Pacific region by (a) promoting knowledge sharing, (b) developing capacities, and (c) championing feasible solutions for priority water topics among their clients, i.e. the water-related institutions in the region. Since solutions to water problems are multidisciplinary the hubs shall also collaborate to serve their clients in the region.
The National Hydraulic Research Institute of Malaysia (NAHRIM) (www.nahrim.gov.my/wkh/) has been identified by the APWF as the "Water and Climate Change Adaptation" regional knowledge hub in Southeast Asia. The hub was officially launched on 1 December 2008 in Bangi, Malaysia. In conjunction with the launch, NAHRIM and its partners, supported by ADB, has organized a 5-day workshop for its potential clients to share knowledge, identify their climate change projection and adaptation needs and also project concept proposals that can be developed and implemented in 2009.
The objectives and focus of the workshop are as follows:
Increase understanding of the impacts of climate change on water management.
Develop partnerships for better results in climate change projections, impact assessments, and adaptation strategies.
Help ADB clients formulate projects for 2009 with support of the regional knowledge hub, NAHRIM and its partners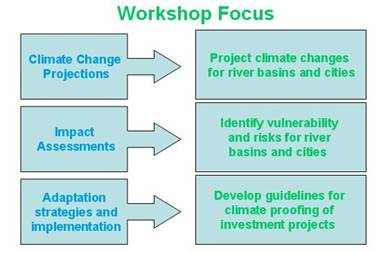 A total of 33 slide presentations were made during the workshop. They were organized under the following two themes

Climate change modeling and related studies (5 presentations)
Climate change adaptation case studies (28 presentations)

The 28 climate change adaptation case studies were further grouped under the following 6 categories:

General themes (6 cases)
Case studies from Central and East Asia (3 cases)
Case studies from South Asia (4 cases)
Case studies from Mekong Region (7 cases)
Case studies from Indonesia (3 cases)
Case studies from Philippines (5 cases)

The 33 presentations can be accessed at http://www.nahrim.gov.my/wkh/seminar.html. The Workshop Proceedings is now being prepared and they will be available from NAHRIM in April or May 2009

.

The participants in the workshop were divided into 6 groups. The groups were required to discuss and identify the potential climate change issues related to their respective group themes and, to prepare a list of possible strategies to address the identified issues. They were also required to develop one or more indicative project proposals for implementation in 2009 to implement some of the strategies in their prepared list of adaptation strategies. In particular, the "Climate Change Projections Group" was required to discuss the current status and issues related to climate change modeling, the needs of the region and the strategies to address those needs. A total of 34 indicative project proposals have been proposed by the workshop participants.

S3. The Way Forward and Plans for 2009

The workshop concluded with a plenary session where NAHRIM, as the Water and Climate Change Adaptation (WCCA) hub, highlighted its services and presented its plans to respond to the expressed needs and project proposals that have been gathered during the workshop. It also allows its workshop partners, ADB, NARBO and Team Japan, to respond to the needs expressed during the workshop. The final event in the workshop was the plenary discussion session where all workshop participants were also given an opportunity to share their learning experience during the workshop and discuss the plans for 2009 and beyond to support them in achieving the objective of adapting to climate change.

Following from the December 2008 Workshop a meeting was held at ADB's office in Manila from 25-27 February 2009 to review the indicative project proposals from the December 2008 Workshop and to discuss the details on how NAHRIM and its partners can achieve the Hub's objectives.

Basically, NAHRIM plans to service its clients and facilitates regional networking with its partners through 5 strategic work themes. They are:

Communications Strategy
Partnership Development
Climate Change Projections
Impact Assessment & Adaptation Strategies
Capacity Building

The figure below highlights how the Water and Climate Change Adaptation Hub, NAHRIM, is organized to serve the region. An "APWF Steering Group on Water and Climate Change" has also been formed to work with the Hub in achieving its objectives.