Report of The 2nd Thematic Workshop on
Water-Related Disaster and Its Management in Asian Countries
water resources management for the lakes
(Philippines) (2008)

1. Background
Natural disasters (e.g. floods, droughts, landslides, volcanic eruptions, earthquakes, tsunamis, typhoons, cyclones and other extreme weather phenomena) have hit Monsoon Asia. These disasters have inflicted catastrophic losses to human lives and to the economies of countries which NARBO member organizations belong to.
Conducting thematic workshops was considered at The 3rd NARBO General Meeting in Indonesia in February 2008 as one of the important activities of NARBO. Based on the updated NARBO Action Plan of 2008-2009, NARBO will carry out a series of workshops on the theme of Water-Related Disaster and its Management in Asian Countries, which have been continued since last year.
In addition, governments around the world have committed to take action to reduce disaster risk, and have adopted a guideline to reduce vulnerabilities to natural hazards, called the Hyogo Framework for Action 2005-2015 (HFA). The HFA assists the efforts of nations and communities to become more resilient to, and cope better with the hazards that threaten their development gains.
The HFA is the key instrument for implementing disaster risk reduction, adopted by the Member States of the United Nations. Its overarching goal is to build resilience of nations and communities to disasters, by achieving substantive reduction of disaster losses by 2015 - in lives, and in the social, economic, and environmental assets of communities and countries. The HFA offers five areas of priorities for action, guiding principles and practical means for achieving resilience against disasters for vulnerable communities in the context of sustainable development.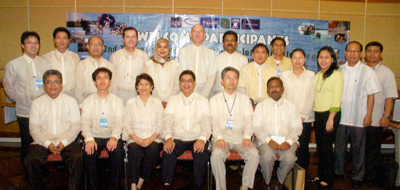 Group Photo
2. Outline of the Workshop
The 2nd Thematic Workshop on Water-Related Disaster and its Management in Asian Countries was held on October 7-10, 2008 in Metro Manila, the Philippines and completed successfully. This workshop was composed of special lectures, presentations by the participants and the related discussions, study visit to Pampanga River Basin, and Group Work.

(1) Lectures
The following lectures were provided during this workshop. Active discussions between lecturers and participants were followed after each lecture.


Name
Organization
Lecture Title

Mr. Edgard C. Manda

Laguna Lake Development Authority (LLDA)

Man made disaster management - Laguna de Bay Region

Ms. Ethel Manalo

Department of Public Works and Highways (DPWH), Region Ⅲ

Flood management

Ms. Maria Antonia Borna

Philippine Institute of Volcanology & Seismology (PhiVolcs)

Overview of Pinatubo Lahars & related flooding in Central Luzon

Dr. Neil Britton

Asian Development Bank (ADB)

The Role of the RBO as a Facilitator of Water-Related Disaster Management in the Rive Basin

Mr. Akira Terakawa

The International Centre for Water Hazard and Risk Management (ICHARM)

Integrated Flood Risk Management for Urbanized River Basins in Japan

Mr. Michio Ota

Japan Water Agency (JWA)

Water-related Disaster Management
in Japan / Japan Water Agency

Mr. Akira Nishimura

Japan Water Agency (JWA)

Coordination of water use in drought terms
(2) Presentations by the participants and the related discussions
NARBO secretariat had requested all core participants to prepare 5 kinds of materials based on the Hyogo Framework for Action 2005-2015 (HFA) and submit them to the secretariat in advance.
Every core member reported on the situation of water-related disaster and its management in each country especially in line with the prepared materials. It was shared that the climate condition and proceeding situation of disaster risk management were different from country to country.
| | | |
| --- | --- | --- |
| | | |
| Lecture Session | | Q&A Session |
(3) Study visit to Pampanga River Basin

All members who participated in this workshop had an opportunity to visit some places to learn water-related disaster and its management in Pampanga River Basin near Manila such as the buried town by lahars (volcanic mudflows) caused by the eruption of Mt. Pinatubo, the mega dyke constructed by JICA project to keep the downstream residential area away from lahar, Terminal Telemetry Station along Pampanga River and Operations Center of the Flood Forecasting Branch managed by Philippine Atmospheric, Geophysical, Astronomical and Seismology Administration (PAGASA).
Mt. Pinatubo erupted in 1991, but surprisingly it was in 1995 (4 years later) when the large lahar attacked the downstream areas around Bacolor Town. The lahar buried the town by 6-7m at the maximum, and the members were shocked to see some houses which were almost buried in the lahar. However, visiting some places and talking with the local residents in the town, we also could find that the residents have proceeded toward recovery; some have built new houses on the lahar, others have started their new lives by relocation.
Through this study visit, the participants could recognize the importance of community based disaster risk management, as seen in the proven example that repeated prior warnings against the large lahar that hit the downstream areas around Bacolor Town consequently prevented the areas from being damaged severely. That is to say, the community based disaster risk management does affect our lives, and might have changed seriously the aftermath of this disaster to a certain extent.
Buried House by Lahar
(volcanic mudflow)

Discussion with Local People
(Bacolor Town)

Operations Center of PAGASA

(4) Group Work

The participants were divided into 2 groups; one is a group of RBOs and the other is a party of Government Organizations. The participants discussed the common challenges by each group based on the materials (the preliminary assignments) to formulate better action plans. The result of the discussion was shared by presenting in the plenary session.
The participants were requested to modify their action plans before the next (3rd) Workshop based on this work.
Group Discussion
3. Acknowledgements
In appreciation of great efforts of workshop preparation by LLDA staff and active participation by all participants, without your invaluable assistance, we couldn't have completed this 2nd thematic workshop successfully. NARBO secretariat would like to express our warmest gratitude to all of you and hope that we will have closer and better mutual relationship onwards and upwards.