We NARBO secretariat members visited India from 8th to 15th December 2012 in order to investigate circumstances surrounding water in India, and exchanged views on IWRM with central / state government, and an institute of India.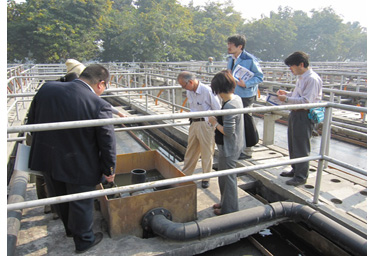 At first, we observed UASB-DHS (Upflow Anaerobic Sludge Blanket – Down-flow Hanging Sponge) wastewater treatment facility which is being experimented by Tohoku University and installed in Karnal, north of Delhi.
In terms of energy consumption, this system can save electricity by using potential energy. Wastewater treatment is crucial for sustainable water management. However, in general, developing countries have difficulties to cope with this issue because of financial problem and low environmental awareness. We saw how that system works, and to what extent the system purifies wastewater, and identified the issues which this system has.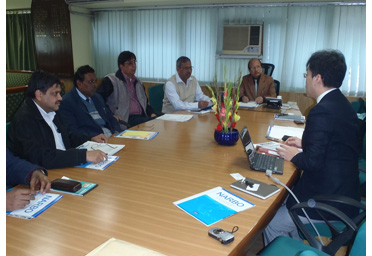 Next, we visited Central Water Commission of India where we provided a brief introduction of NARBO activities to the staff there. In India, there are no RBOs of which the government of India is considering the establishment. .

We were informed form the staff of the Commission explained that 'National Water Policy' was amended, and is waiting for the approval. We also heard with pleasure that they promised to consider joining NARBO.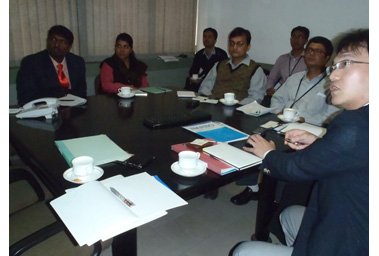 Following that, we went to TERI: the Technology and Resources Institute where we introduced NARBO and exchanged opinions about water-related issues.
Various topics were discussed between TERI researchers and secretariat members. TERI researchers mentioned that one of the most important challenges of IWRM in India is water pollution problems. We were also informed by them that water tariff is determined by the government, without considering running cost. We could have a fruitful discussion, which we could gain a wealth of information on water issues in India from TERI researchers who are familiar with water-related matters in many aspects.
Finally, we visited Orissa. Mr. Sahoo and Mr. Mohapatra, who participated in 7th IWRM training, kindly provided us a tour of the government office of Orissa. Mr. Rath, who also participated in NARBO RBO Seminar in 2011, welcomed us and held a meeting for an     exchange of opinions. After the discussion, we made a courtesy visit to the Principal Secretary of Government. On the second day of the visit, we went on a field trip. Government of Orissa kindly arranged a meeting with farmer's association. It was meaningful for us that we could hear opinions from the organization. In addition, we observed IWRM spiral in Orissa.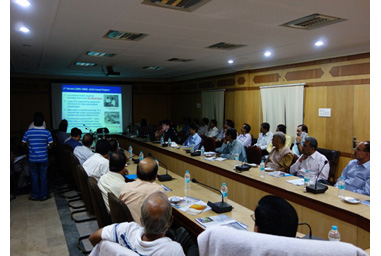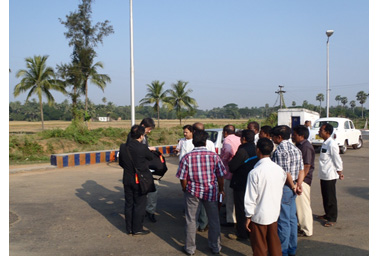 In this visit, we realized that India is a great county as Indian people say with pride. At the same time, we keenly sensed that solving water issues is imperative in India. In this sense, we believe that NARBO activities must be useful for India, while the development of Indian IWRM can lead to the development of NARBO. We hope to keep in touch with friends in India and continue a cordial relationship.