Background of the workshop
Number of water-related disasters all over the world, and poorly equipped climate resilient society weakens the capacity to address the actual situation to mitigate the damage of water-related disasters. It is clear that in the emerging global and regional scenario, climate change adaptation and coping with disaster is interwoven and crucial to the success of initiatives in the water sector, impacting all countries.
By examining the literature and assessing case studies of adaptation in the region, it becomes apparent that there are a number of gaps in knowledge, capacity, and experience. These include a lack of information on climate impacts in some of the region's most vulnerable areas, which are hotspots of climate change; and a lack of research and knowledge across a range of interconnected issues. Adaptation to climate change converges on the goal of water security for all in addition to harnessing the social and productive potential of water and limiting its destructive force. IWRM will be the key for water security and coherent policies or strategies and institutional framework will play a significant role in climate resiliency and adaptation in the water sector.
The South Asian region requires cohesive, robust generation of data and knowledge on the process of adapting to climate change. Bangladesh, Bhutan, India, Nepal and Pakistan share 20 major rivers. Therefore, there is a need for formalized channels of information sharing, centered specifically around climate change adaptation, will be critical in building climate change resiliency in South Asia.
Based on these backgrounds, the Asia Pacific Adaptation Network (APAN) and GWP-SAS conducted a 2-day workshop on "Training needs and gaps assessment on adaptation and resilience to a changing climate in South Asia" on 4-5 September 2013 in Kathmandu, Nepal, focused on assessing the gaps and needs in climate change resilience in South Asia in water. The workshop also aimed to contribute explore the need for formalized channels of information sharing centred specifically on climate change adaptation, which will be critical in building climate change resiliency in South Asia.
Around 30 delegates, researchers and practitioners from 8 countries joined the workshop, and intensive discussion was made.
At first, Dr. Somlal Subedi, Secretary, Ministry of Science, Technology and Environment, Nepal offered opening remarks and told the expectation to the discussions and results of the workshop. Following the opening remarks, 7 sessions on i; Water Sector Adaptation and Resilience to a Changing Climate in South Asia, ii ; Water Security Progress and Success Stories, iii ; How Indigenous Knowledge and Modern Technology Work Towards Resilience in the Water Sector - Focus Agriculture, iv ; Adaptation Technologies and Adaptation Capacities, v ; Water Cooperation for Climate Resiliency (Hydrological Data Sharing and Early Warning) , vi ; IWRM for Water Security, and vii ; Gaps and Challenges were conducted.
Intensive discussions were made among participants, and the workshop showcased good practices from the region on water security progress, indigenous knowledge and modern technology working towards resilience in water sector, underlined the need of water cooperation for climate resiliency and laid emphasis on the framing of coherent policies and strategies in relation to IWRM in the region. In addition to the activities of member organization, regional organizations such as the South Asia Association of Regional Cooperation (SAARC), The South Asia Cooperative Environment Programme (SACEP) and the Network of Asian River Basin Organizations (NARBO) added an additional dimension to the overall workshop and stressed the necessity of integrating Disaster Risk Management, Climate Change Adaptation, IWRM and Sustainable Development Goals (SDGs).
The workshop highlighted the issues that IWRM, water governance issues, water cooperation needs, community-based adaptation, sharing of data information within the context of target audience and the methodologies and tools behind its usage. Consideration to the equity and inclusive approach of the different levels of stakeholders in the decision-making process was also agreed. The workshop also recognized that the post disaster cooperation is visible between the countries of the world, but the gaps should be filled in this direction during the pre-disaster phase in integrated manner.

Mr. Tadashige Kawasaki served as a session chair of 'Water Security Progress and Success Stories' and 'IWRM for Water Security'. Session on 'Water Security Progress and Success Stories' had 7 presentations from South Asia countries which introduced water security in each country by considering the 5 categories of water security which was introduced at AWDO2013 and success stories, and discussed what kinds of gaps are there.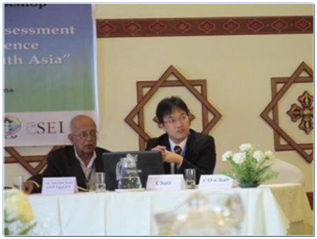 Session on 'IWRM for Water Security' recognized the questions how to implement IWRM especially at ground level, necessity of commitment and capacity building for all levels including stakeholders of IWRM and institutional capacity. And we also learnt that necessity of institutional tools for IWRM implementation, and result of studies conducted by each organization should be disseminated by translated to local language and adaptive manner, and applicable perspective should be incorporated into each project and implemented it at each level.
In addition, we agreed that these activities should be encouraged to fill the gap, and result of the activities such as demand for government is the gap to be filled in.
Dr. Takeyoshi Sadahiro, Senior Counselor, Japan Water Agency introduced the result of ADB's Technical Assistance in Nepal in addition to introducing NARBO, and it was well received as practical activities at ground level and real story which introduces how to implement IWRM.
Result & Way Forward
As a summary of the workshop, we agreed that necessity of concrete actions to fill the gaps between researchers and practitioners and collaboration with other organizations such as collaboration with APAN and NARBO is highly recommended. NARBO is a network of RBO and practitioner of IWRM supported by KnowledgeHub organizations and associated members. NARBO is expected to take a role of filling in the gaps between politicians, researchers and practitioners to boost the implementation of IWRM as like an interpreter. NARBO will enhance collaboration with other networks through IWRM and assist member organization
in implementation of IWRM.