The Official of MARD, Viet Nam visited the JWA Headquarters on July 27, 2017
27 July, 2017
Viet Nam quite often suffers from water-related disasters such as flood, drought, and also salinity intrusion. To deal with such problems, the government of Viet Nam is eager to learn how to deal with those problems and is now in the process of establishing the system and procedures of measures to deal with water-related disasters in Viet Nam. As The Ministry of Agriculture and Rural Development (MARD) had a very good relation with JWA through their water-related activities under NARBO (Network of Asian River Basin Organizations), they requested us to give them an opportunity to tell how Japan had created and improved the system and various schemes to prevent or mitigate disasters while they were visiting Japan. MARD delegation consisted of 5 officials and was led by Mr. Nguyen Hong Phuong, Director General of Central Project Office. They visited the JWA headquarters in Saitama in the afternoon of 27 July, 2017.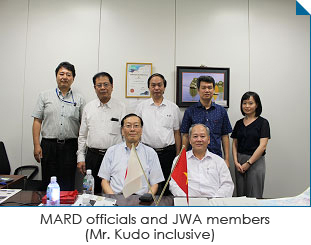 Prior to the explanation of Japan's approach against the water disaster, the delegates paid a courtesy call to Mr. Kei Kudo, Vice President of JWA. Mr. Phuong mentioned that they would like to keep the good relationship between MARD and JWA and enhance it more. He also hoped this opportunity would become a good chance to improve their operations.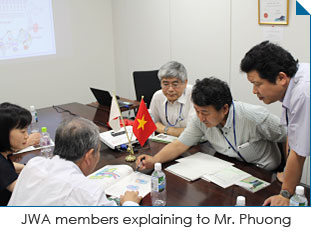 JWA staff guided the delegation to the disaster operations room and introduced some of the equipment for water level monitoring, including remote monitoring system and then they moved to the conference room where JWA staff explained its financing and budget system, including monetary flows and disaster management. Broad and detailed questions were given from MARD to JWA, especially on financing flow, including "How much hydrological data does the equipment provide?", , "How much budget does JWA have in terms of total facility management?" and "What is the financial flow standing, including the burden charges against water users?", etc. And candid discussions were made.
JWA will continue contributing to international cooperation and sharing information, making use of our accumulated knowledge and experiences.